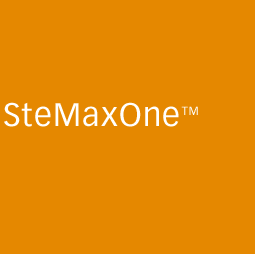 SteMaxOne™ Program
The SteMaxOne™ Program comprises products and services to support scientists to develop their own proprietary chemically defined media for stem cell culture.
The program consists of three distinct steps:

Evaluation of currently used material & methods
Stem cell culture media need to be optimised in terms of galenic formulation, preparation and use in order to minimise physico-chemical instabilities of the micro-environment. We directly show to cell biologists how to improve their nutrient mixtures to achieve the target application starting from classic culture media. Such media are often characterised by a sub-optimal nutrient balance and contain animal-derived components or complex additives. Typical applications of improved or newly designed media formulations include routine maintenance and mass cell cultivation with fortified nutrient mixtures.

Know-how transfer, tech support and express delivery of research-grade material
The above scientific discussion is followed by our know-how transfer & tech support with respect to the development of culture media formulations. Identifying essential nutrients with their suitable concentrations and optimising the bioavailability of water-unsoluble ingredients is the key to define the most suitable stem cell micro-environment. Newly developed and/or improved media are prepared according to our fast-track manufacturing know-how that guarantees delivery of the most preferred media formulations within 20 days. We manufacture media as liquid concentrates to be reconstituted with tissue culture water and filter-sterilised prior to use. The lot size ranges from just 3 liters to 2400 liters research-grade material exclusively containing certified ingredients.

Manufacturing of GMP-grade material
The above research-grade media can be manufactured as liquid concentrates under cGMP by our pharma partners.

The above steps 1, 2 and 3 can be combined according to the most preferred strategies and goals, e.g. steps 1 through 3, steps 1 & 2 only, step 2 only (express delivery of research-grade material), step 3 only (manufacturing of GMP-grade material), etc.
---
SteMaxOne™ is a trademark of Dr. F. Messi Cell Culture Technologies.